The "AYURVEDA" name is symbolic of its origin. Which is very crucial for living. And it is identified by our exclusive quality. "AYURVEDA" is made up of two different Sanskrit words, "AYU" means life and "VEDA" means knowledge. So basically Ayurveda is a science of life or knowledge of life. Ayurvedic medicines is an ancient Indian branch of medicine. Based on natural herbs and plants to cure diseases that enhances the human health. Syndy Pharma become an Ayurvedic Medicines & Products Companies in India.
Features
Quality and Quantity
Time Bound Supply
Commitments and Honesty
Consistency
Ayurvedic Products Manufacturing Companies
Syndy Pharma is one of the leading Ayurvedic Products Manufacturing Companies in India. Our range of products includes Ayurvedic Syrup, Ayurvedic Tablets, Ayurvedic Oil, Ayurvedic Capsules and other Personal Care Products. The company promotes patent ethical and generic ranges of Ayurvedic Products. With a years of experience and market experts in the field of Ayurvedic medicines, we have been able to recognize ourselves as a reliable entity of the market industry.
Over the years, we have been successful in providing natural, health care and personal care products to our valuable clients. The most important aspects of our ayurvedic products is that they don't have any reaction on the body. With a strong commitment, the company aims is to create innovative total herbal health solutions to our customers over the world. All the products are manufactured with a active principles and that are tested, well documented in the ayurvedic industry. We are committed to provide ayurdevic medicines with high quality products.
Get latest info on Ayurvedic Products Manufacturing Companies in India. Send an enquiry for Indian natural and ayurvedic products industry info@syndypharma.com.
Ayurvedic Alternative Medicines Exporters India
Since long decades, Syndy Pharma is known as the supreme Ayurvedic Alternative Medicines Exporters India. It offers wide range of ayurvedic alternative medicines and herbal cosmetics including capsules, creams, soaps, tablets, syrups, creams etc. Our company was established in the year 1978 by Late Dr. Dubagunta Subrahmanyam (Ayurveda Sastra). The company is associated with different herbal and ayurvedic products manufacturing companies of Hyderabad, India
Indian Traditional Alternative Ayurvedic System
It has been engaged with ayurvedic medicine and herbal cosmetics as well as pharmacy from the last 30 years. It offers high quality health supplements at cost-effective prices. Products has been designed and manufactured as per the requirement of body during exercise which help us to regain the burn calories and to provide sufficient power and stamina to the person. It is India's first GMP and ISO 9001:2008 certification company, manufacturing and exporting scientifically tested and approved high quality ayurvedic medicine and herbal products. Today, Syndy manufactured and supplied thousands of alternative ayurvedic medicines and customers got more benefits for effective cure of different medical conditions.
For more information please visit Syndy Pharma, Ayurvedic Alternative Medicines Exporters India at Hyderabad, Telangana State, India.
Ayurveda is a holistic medical framework. Ayurveda is a Sanskrit word that actually implies the Education of life (AYU- life, VEDA- information or Science). It depends on ancient Indian messages that use normal medications, Herbal medicines, dietary practices and way of life to advance the healing of mind, body, soul. The advantages of Ayurveda have been demonstrated over hundreds of years and practiced in everyday life to maintain the best health.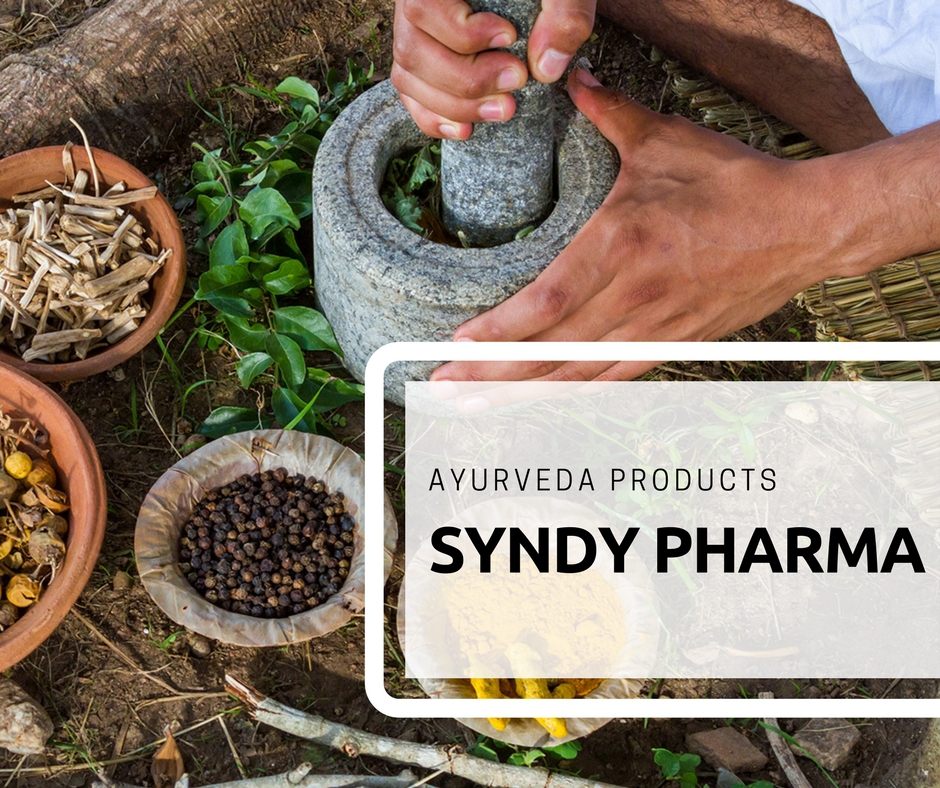 History of Ayurvedic Medicines
Ayurveda, most usually characterized as the act of antiquated Hindu or Indian medication, related with the Vedas, the Indian literature, dating from 1500 B.C initially transmitted orally, Ayurveda was classified into the real thesis of Charak, Sushruta and vagbhatta samhita (medical transcripts). In the ancient days, the Muni's are the Doctors and Ayurveda Medicine Manufacturers. Their texts are still being as classical reference.
Classical Ayurveda Products Manufacturers
Nowadays, Ayurvedic Medicines have huge respect overall the world because of the best and safety results in chronic and in intense conditions. More than 80% of the people are using the alternative therapy. But, the people have great trust in the Herbal products. Classical Ayurveda Products Manufacturers are establishing all over the World.
As Classical Ayurveda Products Manufacturers, We are pleased to be an outstanding Ayurveda brand name of India having specialization in mixing ancient Ayurvedic science for the formulation to counter health related issues of modern lifestyle. Each Ayurvedic item has been formulating after a long clinical trial and inquired by the group of Ayurveda specialists.
Syndy Pharma- Classical Ayurveda Products Manufacturers
A solid foundation has been built by our dedication, devotion, vision and diligent work over the years. As the best Ayurveda Medicine Manufacturers, Our items are being promoted in India by our own particular devoted group of marketing and sales team. In fact, some of our products are being utilized as a part of a few different countries, indirectly.
Being as Classical Ayurveda Products Manufacturers in India, We guarantee our expert approach and devotion to give "The Best" and are sure to contribute progressively through our Research and Development efforts for assist advancement of Ayurvedic Medicine Science to serve the people.
Syndy Pharma- Ayurveda Medicine Manufacturers
Syndy Pharma is one of the fast developing Classical Ayurveda Products Manufacturers which is bound to be a star. Our Success would not have been conceivable without the help our group of dedicated professionals, pharmacists, marketing, and sales team. We promise to progress.
No one can give the best Ayurveda Products more than Syndy Pharma. We are the Ayurveda Medicine Manufacturers which has been following the traditional methodologies in the Preparation of Ayurveda Medicines.
There is a demand for Ayurveda Medicine Manufacturers in today's modern world because majority of the Population on this planet choose the Ayurveda as their last hope for the treatment of many diseases.